Printing
PaperCut Print Management Software
Like the rest of the university, cost is associated with printing at the Law School. The Law School charges $0.10 for a black and white page. Duplex printing is encouraged and available on all Law School Printers. Two-sided pages also cost $0.10 per side. The Law School uses a print management software called PaperCut to control printers and printing accounting. At the beginning of each semester, every student is credited $30.00 to use for PaperCut printing. PaperCut provides a Web-based method to view your balance and to reload funds.
1) PaperCut for Web (Recommended by TLS Computing Services)
Sometimes you just want to print without the hassle of installing a software on your laptop. If a one sided, black and white print out is all you will need, then you can enable printing without installing the printer drivers.
Open any Internet browser (IE, Chrome, Safari, Firefox…)
Enter in the address bar- http://papercut.law.tulane.edu
In the login window, enter your Tulane email username without the @tulane.edu. Your password is the same for Tulane email and Gibson login.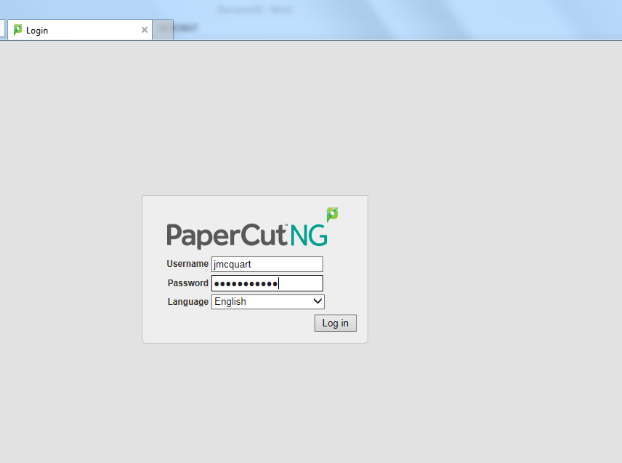 Then go to WebPrint tab on the menu on the left side of the screen.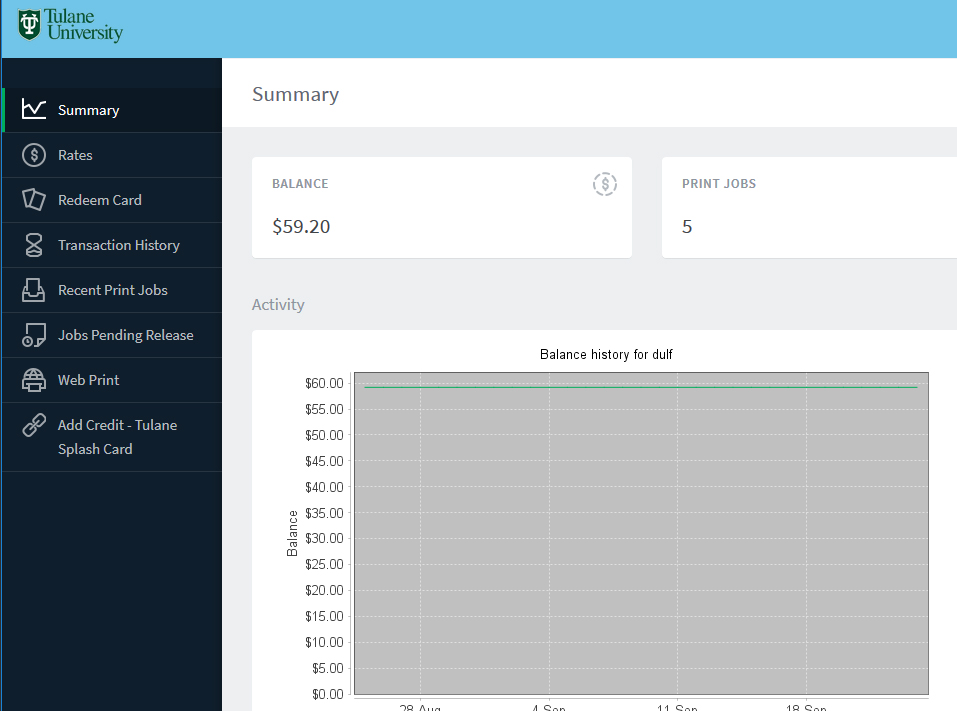 Then select a printer. FYI, if you want a duplex (two sided) print, then select the printer with the word "Duplex".
Then select the number of copies and upload document and select Print.
The cost for the pages printed will be deducted from your account as Indicated on the right hand side of your screen.
NOTE: Although Webprint claims to be able to print graphics (jpg, png, gif), this is not working. A workaround would be to place your graphic in a Word file, them print the Word file.
2) PaperCut Software Installation
If you will be printing more than MS Word, Excel, PowerPoint and PDF documents then you will need to install the PaperCut client and printers on your laptop. Installation instructions vary depending on your operating system.
PaperCut Installation for Windows 10
PaperCut Installation for Mac 10.7 or later
3) Printing by email
Log in to your Tulane email account. You can login quickly by going to www.outlook.com/tulane.edu. ***FYI- This will only work with your Tulane email, not another email account (e.g. gmail, yahoo…etc)***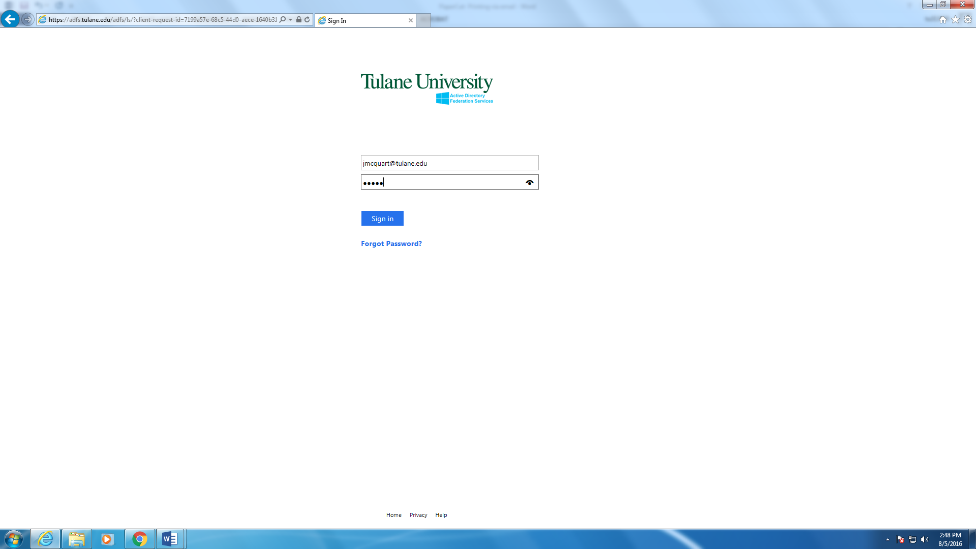 To print your documents, there are email addresses for each printer. Remember to use @tulane.edu after the printer's name. For example, the email address to send for the printer in the 3rd floor is law3rdfl@tulane.edu. Below are the list of the printers:
lawlab3- for printer lab 3
lawlab3- for printer lab 3
lawlab6-  for printer lab 6
law3rdfl-  for Printer on 3rd floor
law5thfl-  for Printer on 5th floor
law6thfl- for Printer on 6th floor
lawcolor- printer for color (FYI- all pages to this printer cost .50 cents each).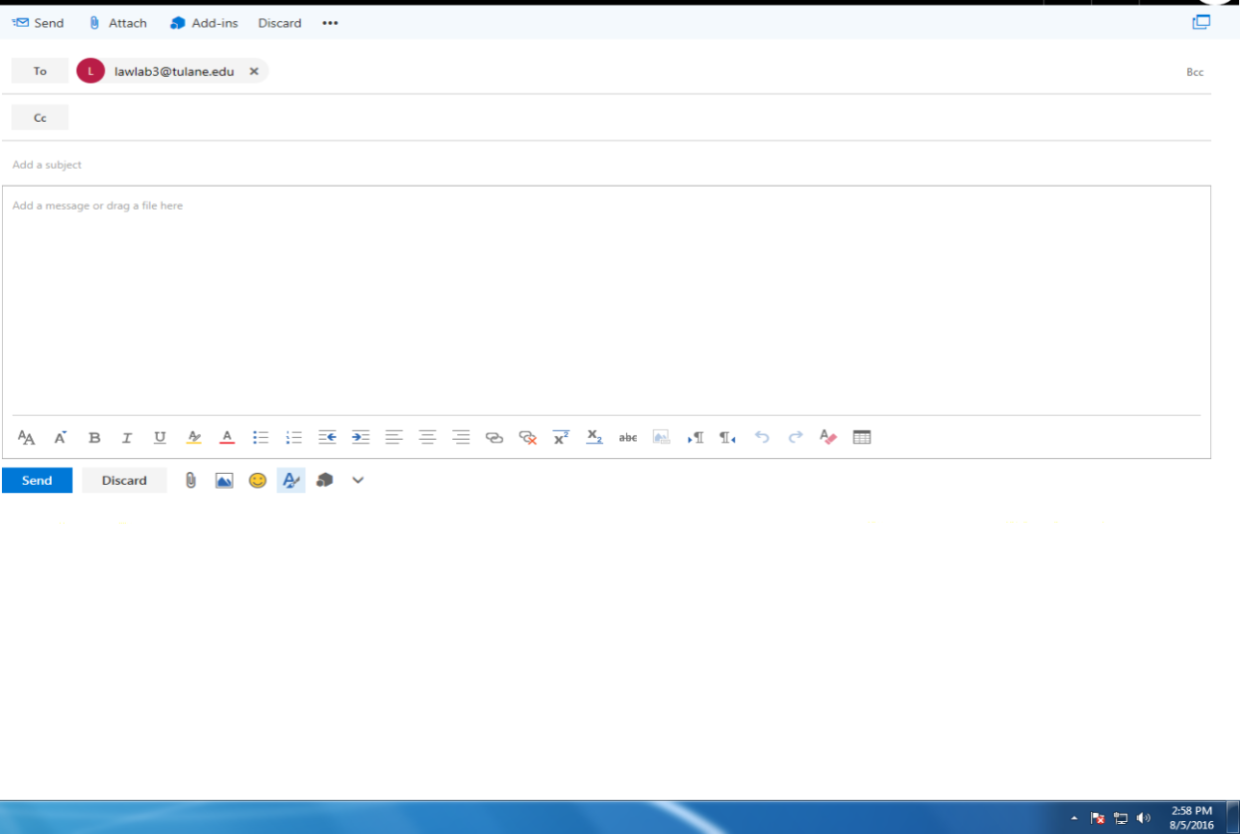 Attach your documents to and click send to print. Adding subject line is not necessary.
After you send to print, you will receive an email confirming the documents were processed and printed. Please check the printer and make sure the correct documents were printed.
You can also check confirmation via PaperCut website. Go to the login page (papercut.law.tulane.edu) and will see the confirmation as the printing charge from your account.
If you don't receive your confirmation through email or PaperCut and you were charged for the printing, contact the Law School Help Desk by:

Calling them at 504-862-8666 off campus or x88666 on campus
Emailing- lawhelpdesk@tulane.edu