Externships
Please be advised that students are not permitted to enroll in the same academic year externship course more than once. For example, if you previously took the one semester corporate counsel externship, you cannot enroll in the corporate counsel externship again, even if it is with a different site. Similarly, once you've taken the yearlong judicial externship course in your 2L year, you cannot take a yearlong judicial externship course in your 3L even though it is with a different judge or court.
Generally, you will not be offered more than one experiential opportunity as a result of the LagniApp process, although you may later enroll in simulation courses. Most clinics and externships do not allow co-enrollment. One exception is that it is possible to co-enroll in the Legislative Advocacy course and certain externships. However, because externship and clinic spots are limited, one student is not usually offered two opportunities concurrently.
Contact Info
Professor Tonya Jupiter
Associate Dean for Experiential Learning and Public Interest Programs
Suite 216
Phone: 504-865-5157
Email: tjupiter@tulane.edu
Externships & Pro Bono:
Professor Saia Smith
Director of Experiential Learning
Professor of Practice
Suite 232
Phone: 504-865-5733
Email: ssmith19@tulane.edu
Clinics:
Lisa Lamonte, Manager
Suite 130
Phone: 504-865-5975
Email: llamonte@tulane.edu
Yearlong and Fall/Spring Externships:
Tulane externship courses involve a 3-credit Pass/C/Fail fieldwork course requiring 135 hours of field work per semester. during the academic year, students take a co-requisite, one credit graded seminar. applications for academic year externships are included in the LagniApp, which is open every spring. you may not enroll in the same externship course twice. for example, if you enroll in the yearlong judicial externship course (and the co-requisite seminar) in your 2L year, you may not apply for a yearlong judicial externship in your 3L year.
Work for Credit for a Legal Organization in New Orleans
Get a real-world experience in New Orleans' diverse legal community while earning credit and performing complimentary coursework under the supervision of Tulane faculty. the possibilities are boundless: public interest organizations, government agencies, judicial chambers, and in-house corporate counsel. you could be drafting legal opinions, interviewing vulnerable clients, researching novel issues in law, or shadowing an attorney at trial. the link below lists third-year year-long public service externship placement information:
Sites Offering Opportunities for Externship Placement
Public Interest Externship (yearlong and spring semester)
Advocate for clients facing eviction, domestic violence, deportation and other urgent civil and criminal needs from placements with offices including the Orleans Public Defender, Southeast Louisiana Legal Services, and the southern poverty law center. See potential sites here.
The spring Public Interest Externship consists of 3 credits of p/c/f fieldwork and 1 credit for the graded seminar; all 4 credits are experiential. the yearlong public interest/service externship course contains 6 credits of p/c/f fieldwork credit, as well as 1 credit of the graded seminar in the fall only; all 7 credits are experiential.
Judicial Externship
Clerk at a trial or appellate court in the Louisiana or federal court system and explore issues related to the roles of the judge and the judicial intern. the yearlong judicial externship contains 6 credits of P/C/F fieldwork credit, as well as 1 credit of the graded seminar in the fall only; all 7 credits are experiential.
In-House & Corporate Counsel Externship
Learn the ropes of serving as in-house counsel in a corporate setting, including at the Saints, Entergy, the Sun Belt Conference, and Ochsner. The corporate counsel externship is one semester, offered in the fall and spring. The course contains a 3 credit p/c/f fieldwork course, as well as a one credit graded seminar; All 4 credits are experiential.
Summer Externships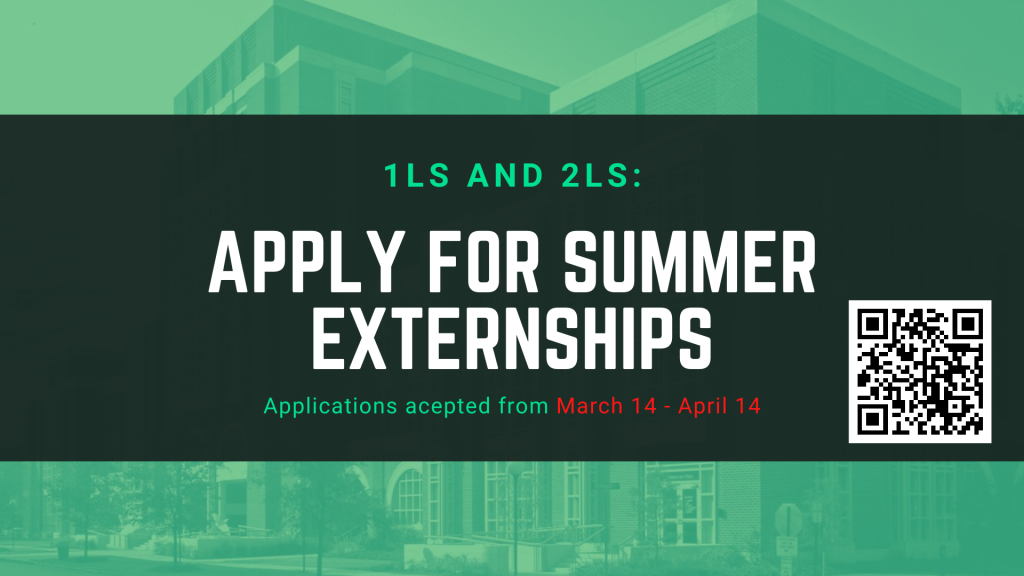 Summer Externship Overview
The summer externship course is a 3-credit, pass/c/fail course open to 2Ls and 3Ls based on experiential learning in the real world. While paired with a Tulane faculty member who supervises written coursework, student externs work at field placements around the world as lawyers in training to develop lawyering skills and professional responsibility.
The cost of the 3-credit summer externship course will be the cost of one credit hour of tuition, and you should reach out to the office of financial aid to determine if you are eligible to receive financial aid support during the summer. Unlike the process for academic-year externship courses, summer externs will independently secure their externship placement site before being accepted in the summer externship course.
Students must:
Apply to be accepted into the program between March 14 – April 14;
Work 135 hours in a 4- to 6- week period between May 15 – July 28;
Ensure their site completes the externship site approval form, to determine if the site fits within Tulane's eligibility requirements, unless the site is at one of Tulane's academic-year externship sites listed here:
Sites must:
Be a nonprofit, government office, judicial chambers, or general counsel's office within a corporation
Have a supervisor who has been barred for a minimum of 3 years; ensure that there will be sufficient and regular supervision and oversight of the extern
Assign students substantive lawyering tasks
Comply with program requirements including approving electronic timesheets and providing a final evaluation of the student.
For more information about this program, see the summer 2023 Externship Frequently Asked Questions (FAQ). Applications for externship credit open March 14th and close April 14th. For questions regarding whether a potential placement may qualify for externship credit, please email externlaw@Tulane.edu.
March 14 – April 14: you must have completed the SummerApp (even if you don't have a summer placement confirmed).

Ensure that your site completes the Externship Site Approval Form (if your site is part of the regular academic year externship program this step is not required)

April 21: you must complete the Summer Externship Acceptance Form
April 24, 12:00 – 1:00 pm: attend the mandatory Zoom Summer Externship Orientation Program.
May 15 – July 28: during the 4- to 6-week externship fieldwork and course period you've designated with Tulane and your site, you will complete fieldwork and complementary coursework with your assigned Tulane externship faculty member.
LagniApp for Academic Year Externships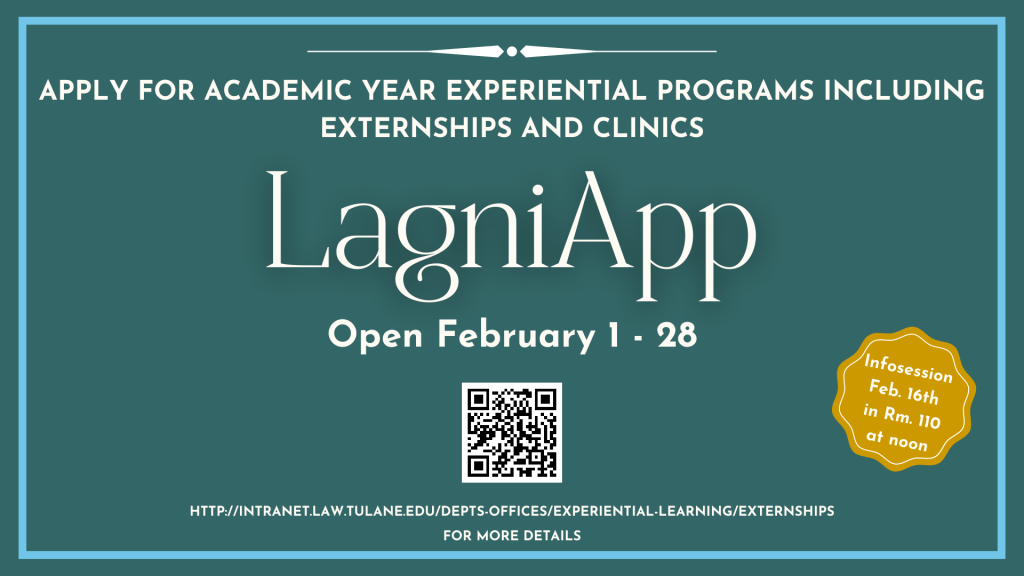 View our Information Session here
The LagniApp is now closed for the academic year 2023 – 2024 application cycle for experiential learning programs requiring the submission of an application prior to enrollment. LagniApp provides students the ability to rank their preferences among various academic-year experiential opportunities in one application. These opportunities include the externship courses, the Environmental Law Clinic (1Ls only), the Immigrants Rights Law Clinic, and the Legislative Advocacy Clinic, all of which count toward Tulane's 6-credit experiential requirement and the New York Bar experiential requirement. The externship courses are:
In-House & Corporate Counsel (Fall or Spring)
Judicial (Year-Long)
Public Service (Year-Long)
Public Interest (Spring)
For a list of placements, click here.
Find our LagniApp FAQ here.
To see a preview of the LagniApp before filling it out, click here.
If you previously applied to a clinic for an early decision and have not accepted an offer to enroll in a clinic, you are free to use the LagniApp to pursue the multiple other experiential opportunities listed there.
Digital Timekeeping System